July 19 Camden Courier-Post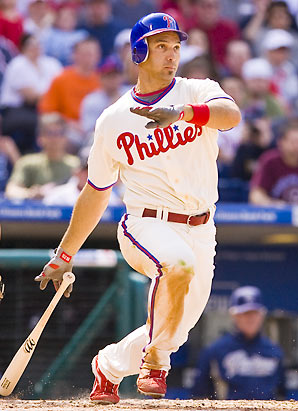 "Phillies manager Charlie Manuel insists he's not platooning Raul Ibanez and Ben Francisco in left field. The evidence is starting to suggest otherwise.
Francisco started for the second straight game against a left-handed pitcher in this four-game series with the Cubs. In all, Francisco has started against lefties five of the last six times the Phillies have faced them.
Manuel said he doesn't see it that way, that he's trying to keep Francisco fresh for when he needs him as a pinch-hitter.
"Every now and then, I've got to get Ben in a game," the manager said. "If he's going to come off the bench and hit for us, he's going to have to get in a game. To me, against a lefty is the best time to do it."
The Phillies are more than halfway through the season, and it's clear Ibanez isn't going to come close to matching his power numbers from last season, when he hit 34 homers with 93 RBIs. This season, he's hitting just .249 with seven homers and 41 RBIs.
He has been hitting better lately — .278 with four homers and 19 RBIs over his last 33 games.
Against lefties, Ibanez is batting .217 with two homers and 10 RBIs in 83 at-bats. Francisco isn't doing much better, hitting .227 with one homer and eight RBIs in 44 at-bats.
Francisco was an everyday player in Cleveland before coming over with Cliff Lee in last July's trade. Since then, Francisco has been mostly a pinch-hitter with an occasional start.
Those starts were few and far between until recently as Manuel hoped to get Ibanez out of his early-season slump. Francisco had only three starts in April and three more in May.
"I just felt like, right now, he hasn't been getting in many games and hasn't been playing much," Manuel said of Francisco. "I need to get him some at-bats if he's going to pinch hit and help us."
It looks as though it will come at the expense of Ibanez."